FIND A DOCTOR
WE HAVE THE RIGHT ONE FOR YOUR CHILD.
Our pediatricians are specially trained to care only for children, from birth through age 18. To find a doctor near you, enter your address, city or zip code below. You can also search by doctor's name, language or specialty.
SEARCH BY LOCATION
WE HAVE YOU COVERED.
SEARCH BY DOCTOR
WE'RE HERE FOR YOU.
Viewing 1-1 of 1 doctors found.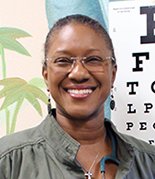 Personal Statement:
Dr. Hines has enjoyed through the years helping care for and helping shape the growth and development of her patients. She stresses the need for preventative care. Dr. Hines enjoys jazz music, baseball, snow skiing and spending time with her dog, Prince.
"Dr. Barbadillo was my doctor when I was a baby and now that I have a baby she is her doctor. I love her clinic, it's always neat and clean. Just wanted to say thank you!"